Contact
Address
Lehrstuhl für Photonik und Optoelektronik
Department für Physik und Center for Nanoscience (CeNS)
Ludwig-Maximilians-Universität München
Amalienstr. 54 (2nd floor)
D-80799 München
Germany
Phone: +49 (0) 89 / 2180 - 3356
Fax: +49 (0) 89 / 2180 - 3441
Email:


Directions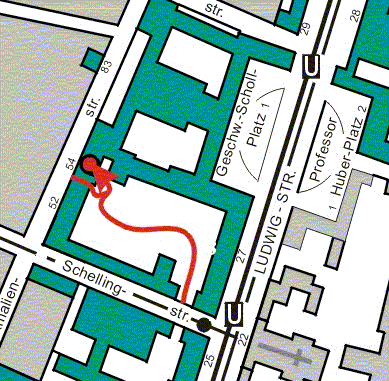 The institute is located in the main building of the university in the district of Schwabing. Parking is a problem in this area. Please use public transport!
The next subway station is "Universität", lines 3 and 6.
From Ludwigstraße turn into Schellingstraße and immediatly to the right into a yard of the university complex. Cross this yard to the building on the opposite corner with black metal front.
Alternatively you may enter the court by a small throughway from Amalienstrasse 54 next to the 'Historicum'. Turn left immediatly after entering the courtyard.
Website
The LMU Munich website has been developed in collaboration with the following companies: